Saturday, October 06, 2012
belated Friday Fun Day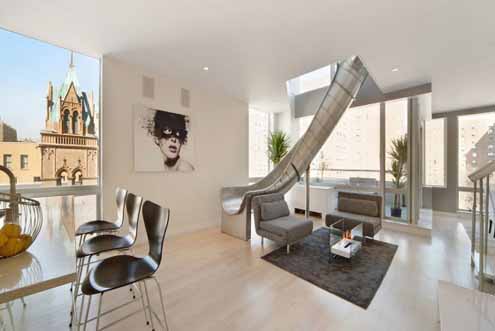 Image courtesy of NYMag.com.
Thank you Chuka for pointing out the "best thing I've read today":
World's Least Fun Person Removing One-of-a-Kind Slide From Apartment He Just Bought
over at
NYMag
.
I'm guessing that's a Carsten Höller slide. And if it's not, it still does the trick of making visitors (even those in-the-art-know) wonder to themselves "is that a Carsten Höller slide?", which is, in my book, victory enough.
Happy Weekend, dear readers. For those of you in Washington D.C., be sure to check out the
(e)merge fair
! S&M will be there all weekend presenting work by
Conor Backman
.
SHOUT OUT
to the
Washington City Paper
for their
nice write-up
of Conor's work there.
TAGS: artfairs / fridayfunday / shoutout
COMMENTS: 0