Wednesday, October 06, 2010
Wednesday links!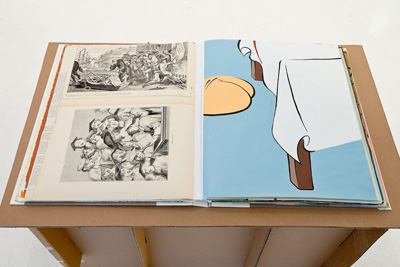 above image credit: E. Frossard, detail of Mark Mulroney's "Really Creative Pictures" sketch book installation
If you haven't already, make sure you schedule a visit to Mixed Greens before this
Saturday, October 9th 6pm
. Mark Mulroney's
Really Creative Pictures
only has a few days left! You can read about the show and flip through some installation shots
here
.
In Other News:
Lindsey Pollock
just got back
from Marfa.
Ed Winkleman was in a
bad mood
yesterday.
Oh lordy,
collectors opening their own galleries to sell off their collections??
And The Art Law Blog
clears up the confusion
over deaccessioning rules.
Mark Your Calendars:
Nurture Art Benefit is next Tuesday, Oct 12th (buy your tickets & view the art
here
!!!)
Julianne Swartz's
"Close" Portfolio
and
Mary Temple's
"Among Friends and Enemies"
will open on Thursday, October 14th, 6-8pm at Mixed Greens.
TAGS:
COMMENTS: 0