Thursday, September 15, 2011
Thursday reading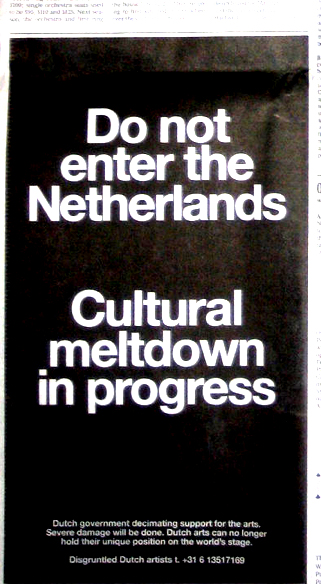 Artinfo.com
reports on the Dutch
"march for civilization"
(response to government cuts in arts funding) and the ad placed by artists in the
NYTimes
.
In case you wondered what that new sculpture (the elephant?) is that has recently appeared in Union Square, you are not alone.
The Art Newspaper
answers all of your questions
here
.
The Moving Image Fair
has announced its
list of exhibitors
over at
Winkleman
Blog.
Lindsay Pollock's
Art Market Views
has not been updated
since July 25th
...I believe my suspicions about its demise may unfortunately be true. I'm sure AiA is keeping her very busy.
And Michaele Salahi
was not kidnapped
.
Happy Reading.
TAGS:
news
COMMENTS: 0