Friday, March 16, 2012
Sonya Blesofsky @ Plug Projects, Kansas City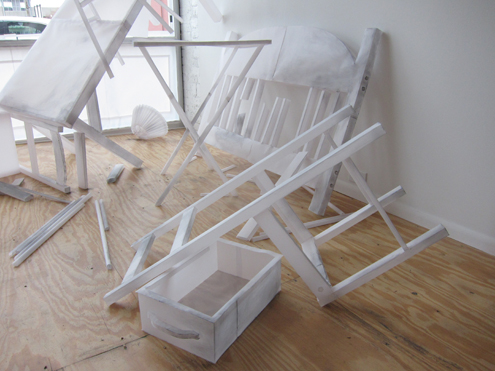 Check out
Sonya Blesofsky
's site-specific installation above, currently on view at Plug Projects as part of the
Superstruct
exhibition.
Sonya Blesofsky
Flood Crest
, 2012
vellum, glue, graphite
PLUG Projects
"SUPERSTRUCT"
Work By: Stephanie Snider, Sonya Blesofsky, Brady Haston, Kirsten Kindler, and Juniper Tangpuz.
March 16 – May 5, 2012
Exhibition Opening: March 16, 6pm - 9pm
Gallery Hours: Saturdays 10am - 5pm and by appointment
Plug Projects is pleased to announce our fourth exhibition entitled, Superstruct. This exhibition brings together the work of five artists whose diverse practices address ideas of the urban landscape. This grouping invites the viewer to consider how we interact with architecture, how we navigate public space or how we encounter urban renewal in our constantly changing built environment. The term "superstruct" is defined as a verb, "to erect upon a foundation or on top of another building or part." The artists in this exhibition do their own form of building upon the existing foundations. The use of collage, layering of paint, and construction within a pre-existing space parallels the building methods found in the everyday urban environment.
About the artists
Sonya Blesofsky
's site specific installation builds upon the architectural history of Plug Project's immediate surroundings, the West Bottoms. Her use of everyday materials such as tape, paper and foil, transform overlooked architectural elements into delicate ephemeral installations. The fragile nature of the materials and the temporary existence of the structure echo a cycle of construction and collapse that is prevailing in Sonya's work. Blesofsky lives and works in Brooklyn, New York. In 2005, she received a MFA in Painting from San Francisco Art Institute and in 2000, she received a Bachelor of Arts, Community Studies & Studio Art from the University of California Santa Cruz. Most recently, Blesofsky has been selected as one of ten artists by the Brooklyn Arts Council for the ephemeral exhibition, Rethinking Memorial: Ten Interactive Sites for 9/11.
Brady Haston
's paintings and drawings place the viewer firmly within pregnant voids of blank space to witnesses a clash of historical references in the present moment, "resulting in an odd mix of signage, industrial forms, architectural details, and materials." Culled from dated and found palettes, their playful colors point to optimism but the backgrounds acknowledge bland, repetitive and "unending sprawl." Integration of text with symbols and forms hovering in space remind the viewer that bits of genuine culture are often lost and truncated in the fold of hasty progress. Haston currently lives and works in Tennessee where he teaches printmaking at Watkins College of Art and Design. He earned a B.F.A from Middle Tennessee State University in 1992 and his M.F.A. from Montana State University (Bozeman) in 1997.
Kirsten Kindler
's three-dimensional collages feature interior architectural forms intertwining and spilling into one another. Kindler's work is all about precision and detail but breaks the rules of architectural language. Delicate extractions are arranged into round tondo compositions and invoke a sense of Escher-like vertigo. Classical, grand, contemporary, and commercial architecture overlap in an endless mobius strip of passageways. Kindler lives and works in Richmond, Virginia. In 1993, she received a MFA from San Francisco Art Institute and a BFA, Parsons School of Design in 1987. She has been shown at numerous art fairs such as, Scope in Basel, Switzerland; Miami, Florida; and London, England.
Stephanie Snider
's work utilizes familiar architectural grids and design elements as a focus for her compositional arrangements. The wall reliefs and collages employ stripped architectural elements at an intimate scale in order to open up architecture into an abstracted visual space. Bits of the paintings find their way into sculptures and sculptures reciprocate by finding a way into the paintings. Stephanie Snider lives and works in New York. She received her MFA from the Yale School of Art, and her BFA from Rhode Island School of Design. She is a recipient of a Guggenheim Fellowship for 2009-2010. Her work has been reviewed in major publications such as The New York Times, The Berliner Morgenpost, and Art in America.
Juniper Tangpuz
's new site specific sculpture, Spatium, bridges the liminal alley space adjacent to Plug Projects. Tangpuz draws inspiration from the architecture of numerous cultures, absorbing and adapting various aspects to create a whimsical addition to the West Bottoms landscape. Tangpuz's sculptures create fissures for pause and contemplation by utilizing existing structures and elements of an otherwise overlooked space. Juniper Albert Tangpuz, a.k.a. T.J., was born and raised in Kansas City, Missouri and received a BFA in Sculpture from the University of Kansas. In 2008, he was awarded an Avenue of the Arts Foundation Grant and in 2009 participated in the Charlotte Street Foundation Urban Culture Project Studio Residency Program.
TAGS: blesofsky / exhibitions
COMMENTS: 0