Monday, September 20, 2010
NURTURE Art Benefit!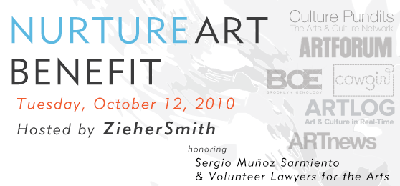 Lots of things happening over there at
NURTUREart
. They're gearing up for their annual benefit (all info below), AND if you purchase tickets before October 1st you'll get a sweet deal.
EVEN MORE EXCITING NEWS
: NURTUREart's incredible artwork registry is now ONLINE! Curators--you can browse! Artists--you can submit!
The NURTUREart Benefit is
Tuesday October 12th, 7PM
ZieherSmith Gallery 516 West 20th Street New York, NY 10001
Buy you tickets
here
.
TAGS:
COMMENTS: 0