Friday, March 16, 2012
Loss of control: Dawn Kasper @ The Whitney Biennial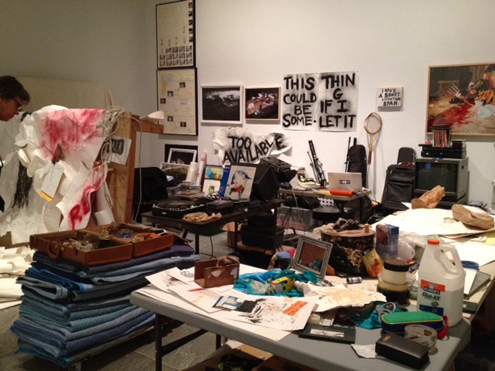 I smell something faintly aromatic…cedar..sandalwood. Mixed with burning. And once I turn the corner into
Dawn Kasper
's "environment" installation at
The Whitney
, I'm hit smack in the face with wafting fumes of incense. A crowd of visitors is shuffling through small objects in a case like it's a garage sale. But the museum guard is only feet away and seems unconcerned.
The wall label informs me that this installation,
THIS COULD BE SOMETHING IF I LET IT
, is the entire contents of the artist's bedroom and nomadic studio, moved into the Whitney for the duration of the Biennial. The artist will be making work, conducting studio visits, and playing music during this time. Again, according to the wall label. This stands in as a living sculpture and blurs the distinction between performance and preparation.
Suddenly the artist smelled what I smelled. "What is that? Wait, what is that?" And the proud visitors happily showed off the incense they'd taken the liberty of lighting. I watched as Ms. Kasper lept to the front of her nomadic studio space to put out the smoking stick because surely
FIRE
was not an intended outcome of this experiment.
Later I crossed paths with Ms. Kasper in the stairwell. She was joined by an exuberant and inquisitive visitor on a little walk around the museum. I overhead her lament the obvious: "It's not my stuff anymore in this context."
THIS COULD BE SOMETHING IF I LET IT, 2012
from the series The Nomadic Studio Practice Experiment 2009-
Three month durational performance and multimedia installation
Collection of the artist.
Dawn Kasper
b. 1977 in Fairfax, Virginia; lives and works in Los Angeles
TAGS:
exhibitions
COMMENTS: 0