Wednesday, May 01, 2013
IMMERSIVE THEATER PIECE TO ROUND OUT MIXED GREENS' SEASON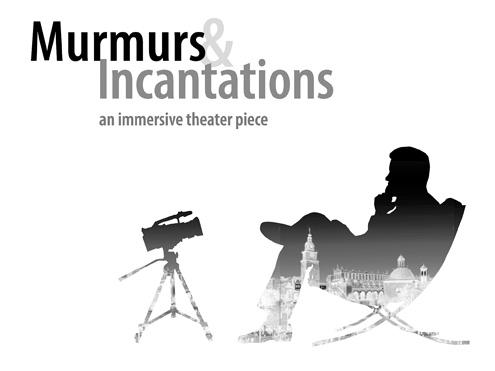 Wednesday, August 21 & Thursday, August 22 at 8pm
Special Performance: Murmurs and Incantations
Written and directed by Dahn Hiuni
Music by Yuval Ron

Mixed Greens is thrilled to present the New York premiere of Murmurs and Incantations, a mixed-media, immersive theater piece written and directed by award-winning performance artist and playwright Dahn Hiuni, with music by Academy Award-winning composer Yuval Ron (West Bank Story). The cast will be announced later this Spring.
Murmurs and Incantations will take place Wednesday, August 21 and Thursday, August 22, 2013 at 8pm in the gallery spaces at 531 West 26 Street, First Floor, New York, NY 10001.
Murmurs and Incantations tells the story of a gay, New York performance artist with creative block who fatefully travels to Poland in an attempt to revive his art career, only to be further confounded by the disapproving ghost of his grandfather, a rabbi killed in the Holocaust.
Harrowing, poignant and irreverently funny, Murmurs and Incantations explores the anguish and the responsibility of being an artist. It sharply examines the ways in which identity, cultural history, and personal baggage affect, impede, and shape the creative process. Theatrically, Murmurs and
Incantations is groundbreaking in its meaningful incorporation of performance art into both the form and content of the play.
As the play's action largely takes place in art spaces, Murmurs and Incantations' site-specific staging in a Chelsea gallery is a natural fit. Audiences are offered an exciting immersive experience, migrating from scene to scene in the real spaces of the art world. In addition to music, played live in the gallery spaces by its composer, the piece includes live video, installation-like sets, and audience participation, making for a richly textured evening of contemporary performance.
Mixed Greens represents U.S.-based artists that specialize in conceptually driven work in a diversity of media. We are happy to have the opportunity to bring together the theater, art, and performance worlds of New York for this inventive and innovative event.
The event is open to the public. All tickets $25 general admission. To purchase tickets, please click here:

TO SUPPORT THE PROJECT
, please click
here
.
TAGS:
COMMENTS: 0