Friday, October 22, 2010
Friday is Fun Day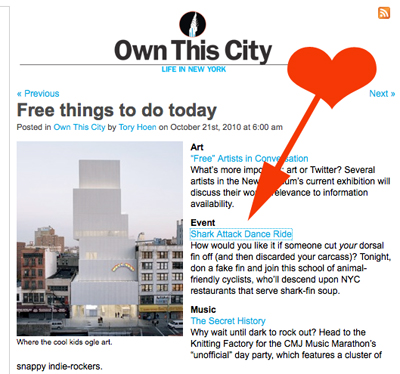 (above: screenshot taken from http://www3.timeoutny.com/newyork/tonyblog/2010/10/free-things-to-do-today-486/)
I SAW IT!
The Shark Attack Dance Ride
. A bevy of shark-finned bike riders crossed my path in front of
the New Museum
last night. There were my two loves: art and sharks, in one place at one time, and I was without my camera!!!!!!!!! ahhhhhhh!!!!!!! Hopefully this event will be recurring.
More reading for your friday:
Interesting
exhibition essay
about art and money. Looks like I missed seeing the exhibition,
Moving Money
, but there are some installation shots from the 2009 show
here
.
Speaking of art that might involve (il)legal issues (criminal trespass, for instance) the TED prize was awarded to the
very exciting photo-pasting 'graffiti' of artist J R
.
TAGS:
COMMENTS: 0