Wednesday, November 28, 2012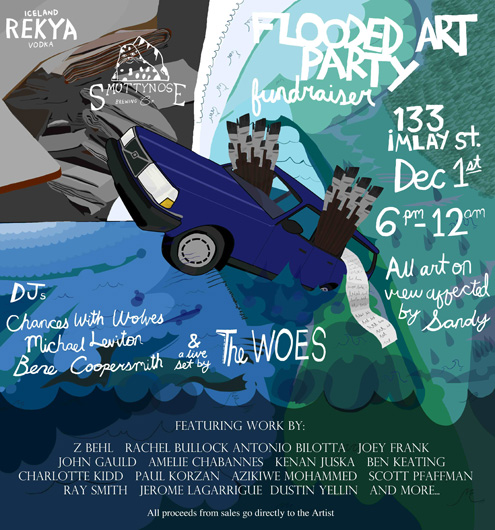 Z Behl and Paul Korzan are proud to present FLOODED ART PARTY, a celebration of Sandy-transformed art works, on Saturday, December 1st from 6pm – midnight.
Since the storm, artists have lost their studios, their archives, and their minds. In the spirit of ruin, we'll be displaying art altered by Hurricane Sandy and hosting a dance party to raise funds for the artists affected.
Featuring Artwork by:
Z BEHL * RACHEL BULLOCK * ANTONIO BILOTTA * AMELIE CHABANNES * JOEY FRANK *

JOHN GAULD * KENAN JUSKA * BEN KEATING * CHARLOTTE KIDD * PAUL KORZAN *

JEROME LAGARRIGUE * MOLLY MCIVER * AZIKIWE MOHAMMED * COKE WISDOM O'NEAL

* SCOTT PFAFFMAN * RAY SMITH * DUSTIN YELLIN

AND MORE
Music by: DJ's Chances with Wolves / Michael Leviton / Bene Coopersmith
Live set by: THE WOES
FLOODED ART PARTY
is free, though we'll be collecting donations.
Join our
Facebook Event
for more info and updates.
Bar is generously provided by Reyka Vodka and Smuttynose Brewing Company. Sausages by Der Kommisar.
FLOODED ART PARTY
133 IMLAY STREET in RED HOOK
DECEMBER 1st, 6pm-midnight
"In the wake of the terrible storm, material overflowed from buildings into the streets. My studio was lost. I found much of my work underwater. Relegating my art to the world of trash felt wrong or at least too painful, too abrupt. As I emptied my space, I took photographs, not to document my losses, but to create pictures of my losses. It was easier to transform my pieces into new work than to accept the loss of old work. Every artist has a unique relationship to authorship, control, and closure. I wondered if I was the only one struggling with throwing things away or if others felt compelled by the spontaneous beauty of destruction to keep their ruined work. Let's stand in awe of Sandy's impact, considering the peculiar artistic decisions of a storm's hand."
TAGS:
events