Tuesday, October 19, 2010
...and other media-sharing sites:
"Terms and Conditions"
is the fine print you should worry about. We're now in the habit of scouring our credit card statements for increases in interest rates...add this to your list of things to pay attention to. Here's why: most online portfolio sites or social networks that allow users to upload personal content (where "content" is defined as not being information), this becomes STUFF that you share ownership of. You are putting it out there for the world, and you are essentially giving the world the right to it. Also check out the Facebook Principles
here
. Note #2--it reminds users that Facebook has no control over limiting how your "Friends" or other Facebook users might use the content you upload. Ever wondered why recent
news stories have pulled images
of victims or perpetrators from their Facebook pages? (see below)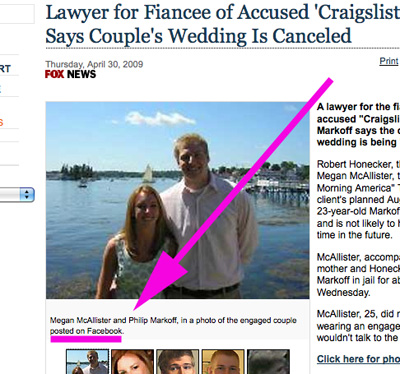 (above image: Screenshot courtesy of FoxNews.com taken from http://www.foxnews.com/story/0,2933,518459,00.html on 10/18/10 5:27pm)
This content is now in the public domain, and depending on your Privacy settings, your "Friends" (or possibly even "Everyone") has the ability to pull content from your page. Most disturbing is the fact that Facebook, and similar sites, have the right to license, distribute, and even sell your content for commercial or non-commercial purposes. Although Facebook has
publicly stated
that they will not sell content, I still find their terms unsettling, and here's why:
From Facebook's Terms and Conditions:
Sharing Your Content and Information
You own all of the content and information you post on Facebook, and you can control how it is shared through your privacy and application settings . In addition:
For content that is covered by intellectual property rights, like photos and videos ("IP content"), you specifically give us the following permission, subject to your privacy and application settings : you grant us a non-exclusive, transferable, sub-licensable, royalty-free, worldwide license to use any IP content that you post on or in connection with Facebook ("IP License"). This IP License ends when you delete your IP content or your account unless your content has been shared with others, and they have not deleted it.
This problem doesn't end with Facebook. I found similar terms and conditions on
Re-Title.com
, a popular art-world site that hosts artists' portfolios and exhibition images. Here is an excerpt from their terms and conditions:
Re-Title.com:
4. USER AND REGISTERED USER MATERIAL AND CONDUCT
4.1 Other than personally identifiable information, which is covered under the Privacy Policy, any material you transmit or post to this Website will be considered non-confidential and non-proprietary and the Company will have no obligations with respect to such material. The Company does not claim ownership of any material or information posted or transmitted by registered users to this Website. To enable the Company to use such material, you grant us a non-exclusive, world-wide, perpetual, irrevocable, royalty-free licence to exercise the copyright, publicity and database rights that you have in such information including all data, images, sounds, text and other things embodied therein for any and all commercial or non-commercial purposes. Such exercise may include, but is not limited to, copying, distributing and publicising such material as the Company sees fit in the normal course of its business.

What exactly does this mean for artists? Why use a portfolio site if you're extending the license of your images for free?? Be aware of exactly what you're signing off on when you upload your artwork to any websites. Here are some strict terms and conditions (for usage)
from the MET's website
, that you might consider using. It's certainly a much better idea to have your own domain, your own website, where you have total control over content and permissions.
More reading on the subject can be found
here
.
There are even
Facebook groups
dedicated to getting the Terms and Conditions amended to better protect original artwork.
TAGS: