Monday, January 14, 2013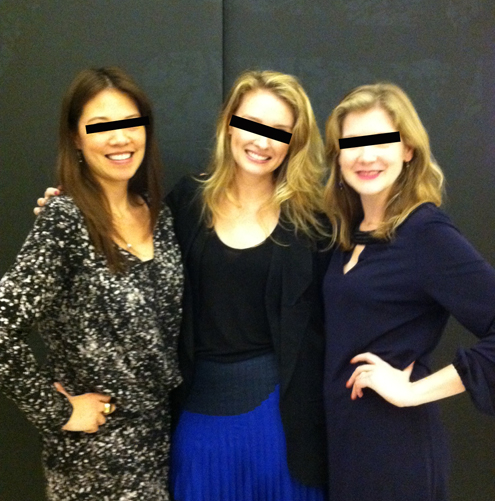 MG ladies at the opening of
COLOR SHIFT
last Thursday evening. Thanks Elisa for the picture!
IN OTHER NEWS:
Chelsea Galleries were back up to full speed, with 27th Street openings last Saturday night. Here's a great
ArtInfo
article about Hurricane Sandy's lasting effect.
Be sure to check out
Kimberley Hart
's work in the upcoming group exhibition,
It's the End of the World as We Know it (and I Feel Fine)
curated by Amy Lipton, at
Ramapo College
.
(MAHWAH, NJ) - An art exhibition exploring environmental concerns "It's the End of the World as We Know it (and I Feel Fine)" opens at Ramapo College on January 30 in the Kresge and Pascal galleries on campus. There will be an opening reception on January 30 from 5 to 7 p.m. Artist and curator's talks begin at 6 p.m. The exhibition continues through March 6. Additional programs will be announced.
The somewhat ironic title is taken from a 1987 song by the band R.E.M.
The 14 artists on view explore contemporary views of nature and habitat expressed through paintings and drawings of the landscape. They envision the natural world in relationship to pressing environmental issues such as climate change, industrial pollution, loss of habitat, consumption of natural resources and human-caused disasters.
Whether imagined or literal, the images in this exhibition directly confront feelings of shock and even despair at the forces of such radical changes taking place on our planet.
Exhibiting artists include George Boorujy, Adam Cvijanovic, Peter Edlund, Joy Garnett, Kimberley Hart, Eve Andree Laramee, Sarah McCoubrey, Jason Middlebrook, Aviva Rahmani, Lisa Sanditz, Charlotte Schulz, Eva Strubel, Sarah Trigg and Marion Wilson.
According to exhibition curator Amy Lipton, "Artists often have a prophetic role, and throughout history they have alerted us to problems that are unforeseen or overlooked. The artists in this exhibition attempt to meet the challenges of the new ecological imperative by bringing attention to the need for protection, preservation, and action. Using realism, fantasy or process as a source for imagination and transformation, they seek to create an awareness of loss and beauty in the marginal, the overused and the threatened."
Lipton is an independent curator and co-director of ecoartspace, a non-profit organization that creates opportunities for addressing environmental issues through the arts. Formerly
a New York City gallerist, she has organized exhibitions in museums, galleries, sculpture parks, environmental centers and in the public realm. Her writing has appeared in numerous books and publications, and she frequently lectures on art and environmental issues. Recent and past projects include "BiodiverCITY," a public art project in Washington, DC in 2012; "Nurturing Nature" at Concordia College in Bronxville, NY; "Ecovention" at the Contemporary Art Center in Cincinnati, OH; "Imaging the River" at the Hudson River Museum in Yonkers, NY; and "E.P.A., Environmental Performance Actions" at Exit Art in New York City.
This program is made possible in part by funds from the New Jersey State Council on the Arts/Department of State, a Partner Agency of the National Endowment for the Arts.
The Kresge and Pascal galleries are located in the Berrie Center for Performing and Visual Arts at Ramapo College. Hours are Tuesday, Thursday, and Friday from 1 to 5 p.m. and Wednesday, 1 to 7 p.m. For more information call 201.684-7147.
TAGS: exhibition / hart / news